About the store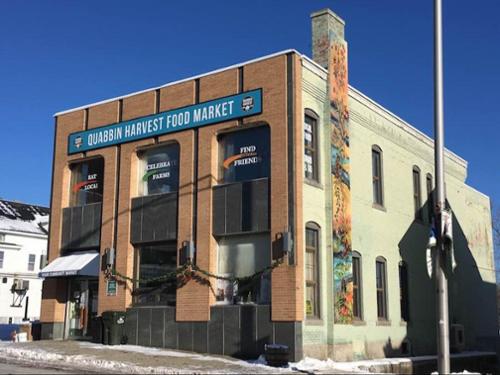 12 North Main Street, Orange, MA 01364
Hours
Mon-Fri 10 am – 7 pm
Sat 9 am – 5 pm
Phone and email
978-544-6784
quabbinharvest@gmail.com
Social media
Find us on Facebook and Instagram
We accept cash, checks, credit and debit cards, and SNAP/EBT.
Off-street parking
Remote ordering/curbside pickup
Pre-ordering individual and bulk items
Flexible weekly produce shares
We're a small, community-owned grocery store emphasizing local, organic, sustainably-produced foods along with pantry staples, snacks, meals and sides to take out, and a wide range of affordable bulk items. We carry many products you won't find in other area stores, including good things from close to home. Learn more about our story and listen to some of our members, volunteers, and staff talking about how they shop at the store!
Delivery, ordering, and pickup schedule:
Monday UNFI delivery midday (except major holidays)
Tuesday Dairy delivery early a.m.; Bart's/Snow's ice cream; produce delivery (usually midday); share pickup starts 3:30 pm
Wednesday Share pickup all day
Thursday Rose 32 bread delivery by 1 pm; order from UNFI catalog by 7 pm for next week's delivery
Friday Place orders for produce shares by 6 pm for Tues or Wed pickup next week
Saturday Place Rose 32 orders by 5 pm (members only)
The mural on the side of our building was painted by Orange artist Susan Marshall. Titled "Reaching for the Sky," it highlights the natural beauty and bounty of the North Quabbin area, with Mount Grace visible in the background and the Millers River winding through the panels. Read more about the mural here.